Tennis Updates:
The adult tennis clinics will begin on 7/13/20
Mon. 9:00 am Advanced 3.5
Mon. 10:00 am  Adv Inter. 3.0 WNT
Tues. 9:00 am Adv. Inter. 3.0 Hot Shots
Tues. 10:00 am Beginners
Wed. 10:00 am Mixed Levels
Thurs.  6:00 pm Working People Clinic
Round Robin's beginning 7/16….9am-12
Please call the tennis booth to sign up at 623-6422 before Friday, 7/10. 
We will limit 4 players to a court
Tennis Information:
West Nyack members have six beautiful tennis courts to use. The courts have been resurfaced by the same company that maintains the U.S. Open Tennis Courts!
In addition, as part of members' annual maintenance fee members are able to:
Enjoy free clinics put on by our certified tennis professionals for adults, juniors, and toddlers (5-6yr old).
Attend Friday night and Sunday morning tennis parties where members can play, eat, drink and socialize.
Join us for "Breakfast at Wimbledon" and watch the matches with fellow fans while sipping champagne and enjoying strawberries and cream.
Show up for the Round Robins – work on your game in a relaxed atmosphere.
Should you want additional, private or semi private lessons, they are available for a fee.
Lastly, we have 8 U.S.T.A. adult teams and a Junior U.S.T.A. team as well. These teams are very competitive and play against other tennis clubs.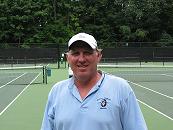 Paul Moczarski - Director of Tennis
Email: moczar@aol.com
Tennis Desk: 845-623-6422
Member of the United States Professional Tennis Association since 1988